Locals on Lesbos ensure dignified end for unlucky migrants
Comments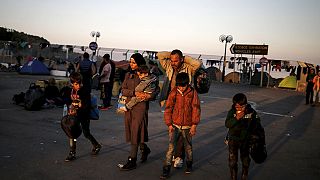 After braving bombs, bullets people traffickers and the open sea refugees in Greece had one more obstacle to face before moving on to elsewhere in Europe. A Greek ferry strike.
A four day delay ended on Friday as two ships carrying thousands of refugees made their way to the mainland from Lesbos, where conditions for thousands of people are now squalid and in places life-threatening.
But they are the lucky ones. So many have died on the beaches or from exhaustion, dehydration or malnutrition once arrived. Locals have now organised their burials in a local churchyard, shocked at their plight.
"They were drowned just because they believed that they would have a better future. And instead they have what? Just a metre of ground above them. And you see all this despair and you can't make sense out of that. This is a place to think about what kind of world we want to have," said activist Lena Altinoglu.
Lesbos is far from the tourist paradise at the moment, straining with the effort of looking after so many poor and desperate people. With the economic crisis and now this some Greeks have taken advantage of the situation to make a fast buck. Fortunately for the refugees, there are Greeks like Lena, too.