Bucharest Colectiv nightclub blaze death toll rises to 39
Comments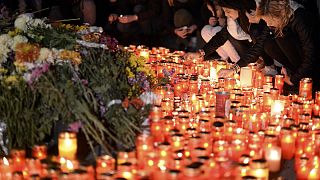 The death toll from last weekend's (October 31) fire in a Bucharest night club has risen to 39. Romania's interim prime minister announced on Saturday (November 7) that six hospitalised victims had died overnight and on Saturday morning. Nearly 200 people were injured in the blaze.
Some were transfered on overnight flights to Belgium and the Netherlands for specialist treatment. Two of those victims did not survive the journey. One person died in an ambulance on the way to hospital, the other died inside the facility.
Colektiv nightclub vigil
Hundreds of people marched in silence on Friday night towards the Colectiv nightclub where the tragedy happened. Fireworks used indoors at a concert set non-fireproofed insulation ablaze, triggering a stampede.
Families and friends lit candles outside the club in memory of those who lost their lives in the blaze.
The mayor of the district where the club was located has resigned and was being questioned by investigators.
RIP to all those affected by the deadly fire at the Bucharest nightclub Colectiv last night. May they rest in peace pic.twitter.com/Blo6DIHzvy

— Român Mândru (@MandruRoman) October 31, 2015