Syria rebels capture strategic town of Morek - reports from activists
Comments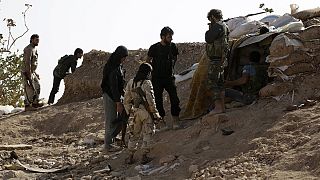 The strategically important western Syrian town of Morek has been captured by rebels, according to activists and a monitoring group.
The town, located north of Hama city, is situated on a major road that crucial to control of western Syria.
Syrian army offensives, backed by Russian air strikes and Iranian troops, to retake territory from rebel groups in the west and north west have been having limited success.
Meanwhile, Moscow released new videos that it says show airstrikes hitting Islamic State group targets in Syria.
The Russian defence ministry said on Thursday that over the previous two days Russian jets had conducted 81 flights over Syria, targeting 263 facilities belonging to extremists.