OPCW says has proof chemical weapons used in ISIL attack in Syria
Comments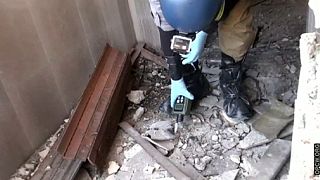 The Organisation for the Prohibition of Chemical Weapons says its analysis of an August ISIL bombardment proves mustard gas was used. First used 100 years ago, it causes severe delayed burns to the eyes, skin and lungs.
Toxicity and soil samples reveal that the gas was used during fighting in Marea, north of Aleppo, on August 21. There is no indication ISIL are capable of producing their own, or if these were seized ex-Syrian army munitions.
Russian air support for Syrian government forces and their Hezbollah and Iranian allies continues at a high rate, but mostly in the west, where ISIL is less present. Instead it is anti-Assad rebels pressing hard here.
In several Damascus suburbs rebels and civilians run a daily gauntlet of fire from the air.
Death can strike at any time, for fighter and innocent alike. For those trapped by the fighting with no choice, it has become a daily certainty more reliable than peacetime habits that seem a lifetime away.