Germany: train collides with lorry in Bavaria, killing at least 1 person
Comments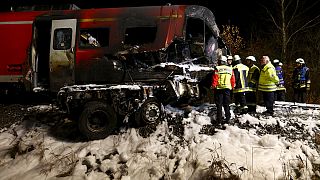 A train crash in northern Bavaria on Thursday night killed at least one person and wounded several more, German media reported.
The passenger train collided with a lorry at a railway crossing northeast of Nuremberg.
Both the train and the lorry caught fire.
The train was travelling at around 100 kilometres per hour, according to police.