Blackberry aims to regain market share with first Android phone
Comments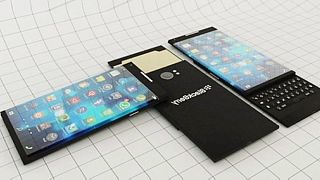 After years of relying on its own software, Blackberry is to break with tradition and use Google's Android operating system.
The Canadian group's latest device, the Priv, will feature a slide-down physical keyboard attached to a high-end Android smartphone.
It's the first time the company has dropped its own operating system.
Blackberry hopes a longer lasting battery and other tools will add to its attractions for business users.
The phone will cost less than some of its competitors, although the battery and keyboard make the device relatively heavy.
After once accounting for a fifth of smartphone sales, Blackberry has almost disappeared from the market.