Sinai tragedy: funerals begin amid fresh theories over cause of crash
Comments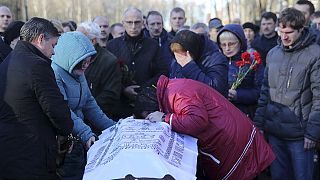 Funerals have begun to take place in Russia for some of the 224 victims of the Sinai air crash.
In the north western city of Veliky Novgorod, 60-year old Nina Lushchenko was the first to be laid to rest. Several hundred people gathered to say goodbye.
The majority of passengers on the Metrojet flight were Russian tourists, travelling back to Saint Petersburg from Sharm el-Sheikh.
An impromptu memorial has been created in Russia's second city.
Former pilot Stanislav, lives in Saint Petersburg.
"I am a former pilot myself," he said. "I have 3,000 flight hours as a military pilot. For me it is especially hard to see all of it, to think of it and to imagine it with pain in my heart".
The UK says there is a significant possibility that ISIL militants orchestrated a bomb attack on the plane.
However both Russia and Egypt dismissed the claim. Moscow labelled it "speculation," saying it is too early to draw conclusions.
The Kremlin told the British press the UK's decision to cancel flights to and from Sharm el-Sheikh was a sovereign matter. However, to the Russian press, Moscow reportedly urged Britain to turn over any evidence it has of foul play.
If claims of a bomb explosion on the Russian plane prove to be true, President Vladimir Putin risks denting his reputation for security.
Peter Foster, The Telegraph's Europe editor writes:
"For Mr Putin, whose domestic support rests on the twin pillars of economic and national security, a successful strike for Isil against an airliner full of middle class Russians on their way back from an Egyptian holiday will represent a significant blow to his prestige."
RIA Novosti news agency quotes a senior Russian MP as saying Britain's decision to suspend flights was motivated by Russia's actions in Syria.
"There is geopolitical oppositio to the actions of Russia in Syria," Konstantin Kosachev is reported to have said.