Benzema placed under investigation on blackmail charges
Comments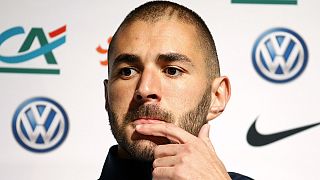 France and Real Madrid striker Karim Benzema has been placed under investigation on accusations he denies that he was involved in a blackmail attempt of a fellow footballer.
Mathieu Valbuena has been threatened with a phone-recorded sex tape that could prove embarrassing and Benzema's name came up in connection with the case during a wire tap.
"Karim Benzema has not admitted anything. It's outrageous to read such things in the news. He proclaims his innocence.He did not take any part, I repeat, any part, in the blackmail, or the attempted blackmail," said Benzema's lawyer.
Lurid rumours have been flying around about the affair which threatens to weaken the national football side at a crucial moment when both players are first-team picks.
Benzema will now face a lengthy period of uncertainty while French justice tries to grind out the truth of the matter.