Schulz visits refugees in Greece to promise more will be done
Comments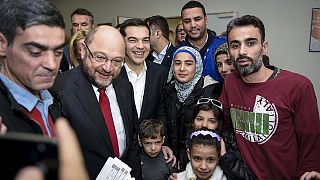 The co-chair of the European parliament Martin Schulz has visited refugee camps in Greece in order to see the situation for himself.
He was able to see first-hand the overcrowding, lack of resources, and deteriorating local weather.
"I believe that it is relatively easy to understand that this is not just a Greek problem. It is a common European problem and we can only solve it by working all together," he said.
Schulz was greeted by anti-EU protesters angry with immigration policies, and Brussels' slowness to give Greece and other point-of-entry states for refugees the financial help they need.
"The refugees arrive exhausted by their trip at sea. Once they are here we find clothes for them, but feeding them is our first concern," said a female volunteer.
After years of standing idle one Greek resource is being brought back into use to help house the refugees; a sports complex built for the 2004 Olympics. But looking after all these people properly will take long-term, purpose-built housing.
"Greece has committed to accommodating over 50,000 refugees a year . But as their numbers increase rapidly every day, the Greek government is warning that unless a solution is quickly found it will be soon unable to cope with the migration influx from the Turkish shores," says euronews' Stamatis Giannisis.