Ex-head of IAAF investigated in corruption inquiry
Comments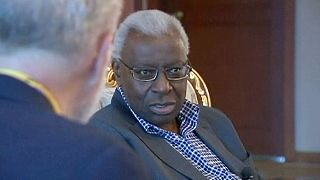 Lamine Diack is the latest to be investigated in an alleged financial scandal in sport. He is the ex-head of the International Association of Athletics Federations and it is alleged he took payments for deferring sanctions against Russian drugs cheats.
French prosecutors suspect Senegalese Diack of receiving money in 2011.
The IAAF's new president Lord Coe was questioned by French police on Tuesday, having offered to co-operate.
The sport's world governing body says it is "fully co-operating" and confirmed police had carried out searches and interviews at its Monaco headquarters.
The 82-year-old Diack ended his 16-year reign as IAAF president in August when Lord Coe, a double Olympic 1500 metre winner was elected as his replacement.
The ruling body has previously denied claims of widespread doping in the sport.