Benzema questioned in French sex tape case
Comments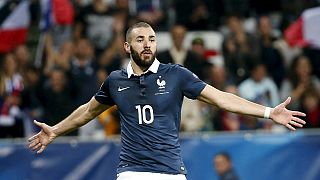 Real Madrid striker Karim Benzema was questioned on Wednesday by French police in connection with an inquiry into an alleged blackmail.
Investigators are looking into allegations of attempts to blackmail Benzema's fellow-French international Mathieu Valbuena using sex video footage.
Three other men were placed under formal investigation after Mr.Valbuena was contacted by someone claiming to have the tape.
Benzema turned up at a police station in Versailles on Wednesday. The Real Madrid striker's lawyer said his client wanted to clear his name.
"When his name was mentioned by the press, Karim Benzema immediately let the investigating judge know he was available to investigators. He has nothing to reproach himself for," lawyer Sylvain Cormier was quoted as saying by French media.