A 'royal' welcome home in Kansas City for Baseball's World Series champions
Comments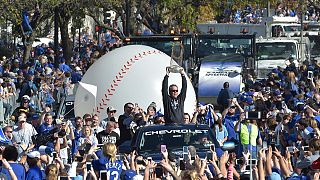 In America hundreds of thousands lined the streets of Kansas to welcome home the Baseball World Series champs – the Kansas City Royals.
And estimated 800,000 crowd in a city with a population of just under 500,000 packed downtown for the party to celebrate the first such victory for the Royals since 1985. The team clinched the Major League Baseball title by 4 games to one in the best-of-seven series of matches.
The parade wound its way along a four-and-a-half kilometre route cheered on by many who had been given the day off by their bosses while several schools cancelled classes for the day.