Standard Chartered bank to cut workforce by 17 percent
Comments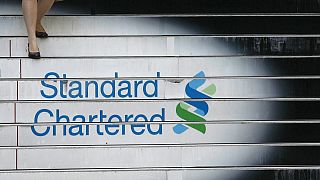 The London-listed bank Standard Chartered is to shed 15,000 jobs by 2018 – the result of turbulence in Asian markets where it does most of its business. It employs 86,000 people worldwide.
The bank has posted 'disappointing' third quarter losses of $139 million (126.6 million euros), and says it intends to raise $5.1 billion (4.6 billion euros) in fresh capital to reinforce itself against fiscal shocks.
The 17 percent reduction of the workforce is aimed at cutting costs by $2.9 billion (2.6 billion euros) over the next three years, and sell or restructure $100 billion (91 billion euros) of loans, on a risk-adjusted basis – or a third of its total.
The restructuring plans have been brought forward by the new CEO Bill Winters, who took over in July.
Standard Chartered also says it is the subject of two investigations by UK financial regulators relating to sanctions monitoring and anti-money laundering compliance. It is already being investigated by US authorities over transactions involving Iranian clients.
Group CEO Bill Winters: "These actions will result in a lean, focused & well capitalised bank, poised for growth." pic.twitter.com/XRRZGVvKLE

— Standard Chartered (@StanChart) 3 Novembre 2015