Sinai crash: black boxes to reveal their secrets
Comments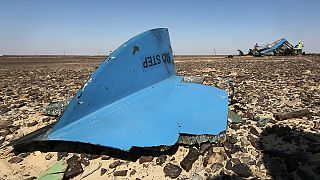 Experts are turning their attention to the black box recorders from the passenger plane that crashed in Egypt on Saturday with the loss of 224 lives.
It is hoped flight data and conversations from the recorders, said to be in good condition, will yield clues about what happened to Flight KGL 9628.
What will the black boxes reveal? https://t.co/vEj17sJSyP

— news.com.au (@newscomauHQ) November 3, 2015
Heat flare shows on a satellite reading
US satellite reported heat flash over Sinai around time of Saturday's Russian plane crash https://t.co/HvJ5FSdOYFpic.twitter.com/fXsEfAP51H

— Intl. Business Times (@IBTimes) November 3, 2015
A US military satellite detected a heat flare thought to be from the Russian Airbus.
The information, reported by the US media, has been interpreted as suggesting a sudden and catastrophic explosion may have resulted in the aircraft breaking up in mid-air.
Claim and counter-claim
#ISIL claims responsibility for "downing" the Russian plane over Sinai. #Moscow rejects the claim. pic.twitter.com/aPhT0Es1pG

— Zaid Benjamin (@zaidbenjamin) October 31, 2015
An organisation affiliated with the self-titled group Islamic State claims to have downed the plane in revenge for Russian involvement in the conflict in Syria.
The Eyptian President, Abdel Fattah al-Sissi, has dismissed the claim as "propaganda".
Russia has also dismissed the suggestion.
Heads of state and government continue to send condolences following plane crash: Vladimir Putin and the Russi… https://t.co/BDIi2hvMBB

— The Kremlin (@Kremlin_E) November 2, 2015
EGYPT: Airline official rejects technical fault as the cause of airplane crash in Egypt's #Sinai on sunday.

November 2, 2015
Egypt's Civil Aviation Ministry says there is nothing to substantiate Russian claims that the airliner broke up in mid-air.
However, experts cite the lack of distress call and the extensive debris field as strong indications that this is what happened.
Friends and families
Relatives identify Sinai plane crash victims as debate over cause continues https://t.co/xu9hOLzeMrpic.twitter.com/L8tulDeMj3

— HuffPost Canada (@HuffPostCanada) November 3, 2015
In St Petersburg, the official mourning period has been extended by three days, making it five days in all.
A further 28 bodies were repatriated on Tuesday, after 144 on Monday. Relatives have been asked to give a DNA sample to help with identification.
A helpline offering psychological support to those directly affected has been inundated with thousands of calls.
Metrojet Flight 9628 – What we know
The plane was an 18-year-old Airbus 321-231
Contact with air traffic controllers was lost 23 minutes into the flight from the Red Sea resort of Sharm el-Sheikh to St Petersburg in Russia on Saturday morning
No distress call was received
There were 224 passengers and crew on board. The majority were Russian holidaymakers. Citizens of Ukraine and Belarus were also on board
Theories for the crash include a bomb on board, a missile strike, a tail strike and mechanical failure. Airline officials have blamed "external factors" but investigators say so far nothing has been ruled out
Both Cairo and Moscow have dismissed an

ISIL

claim of responsibility for the crash