Syrian civilians trapped between shifting battle fronts and air strikes
Comments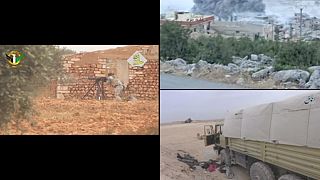 Syria's northern city of Aleppo, heart of a province that was once an economic capital, risks being crushed in the crossfire between forces, remaining civilians with it.
The Syrian government's army, supported on the ground by Iranians and Hezbollah fighters and in the air by Russian airstrikes, is battling rebels and the radical Islamic State movement (ISIL).
A general in charge of Russian operations said these have already had a decisive effect.
Until 2011, four million people lived in Aleppo. In areas under the control of the Damascus regime, now only two million remain, with 200,000 in rebel opposition-controled areas. Of Syria's pre-civil-war population of some 22 million people, about half have been displaced by the fighting.
The Russian Defence Ministry has said its air force has destroyed more than 1,600 terrorist targets in Syria in the month since Moscow first ordered the strikes.
Russia has said it is targeting ISIL and other jihadists and has denied its bombing has killed civilians, while the Britain-based Syrian Observatory for Human Rights said the Russian strikes had killed 185 civilians and 410 fighters from various insurgent groups.
Russian General Andrei Kartapolov said on Friday: "Islamic State and Jabhat al-Nusra have lost the initiative and have had to retreat to defence all over the front line."
In his words: "In three weeks of an active combat phase, the Syrian army freed more than 50 big populated areas, about 30 square kilometres of territory… and the local population has already started returning to some areas."