Elderly Israelis wounded in latest Middle East stabbings
Comments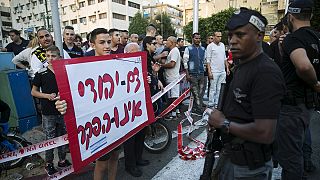 Elderly Israelis were among those stabbed as violence flared again in the Middle East on Monday.
Three people were attacked by a knife-wielding assailant on the rampage in the Israeli city of Rishon Lezion, south of Tel Aviv.
An 80-year-old woman was among two who were seriously injured.
The attack ended when the assailant was cornered in a shop. Police say a 19-year-old Palestinian was overpowered and taken into custody.
But as angry Israelis protested at the bloodshed more than a month into the latest upsurge of Middle East violence, a 70-year-old man was stabbed and seriously wounded in Netanya, north of Tel Aviv.
Israeli authorities said the Palestinian attacker in his 20s was shot and injured by police.
Earlier Israeli forces say they shot dead a Palestinian who tried to stab a soldier near a checkpoint in the West Bank.
The rising violence has seen 11 Israelis killed in stabbings and shootings by Palestinians.
And since October 1, around 70 Palestinians have been killed by Israeli gunfire – many of them armed attackers, Israel says, while others were shot during violent anti-Israel protests.
The spiral of violence prompted a warning from one of Israel's best known voices on the international stage, former President Shimon Peres.
"Israel should implement the two-state solution for her own sake," he said, pointing out that Israel could lose its Jewish-majority status.
"There are no alternatives," he added.
"The alternatives to two states is a continued war and nobody can maintain a war forever."