Federer restores supremacy over Nadal after taking Basel title
Comments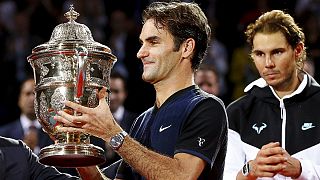 Roger Federer ended a three and a half year-long losing streak against Rafael Nadal on Sunday when he beat the Spaniard to lift his seventh ATP Basel crown.
Federer loves this indoor tournament; this was a record 12th final appearance, and he has waited 21 months to measure himself against Nadal again. He did so emphatically, even if he did cede the second set.
The first set went 6-3 to the Swiss, but then Nadal fought back in his irrepressible way, taking the second 7-5 after a series of wonderful rallies forced the best out of each player.
Federer was again assertive in the third to grab it 6-3 to take the title, and the home fans' adulation.