South Korea go top of Abu Dhabi Judo Grand Slam medals table
Comments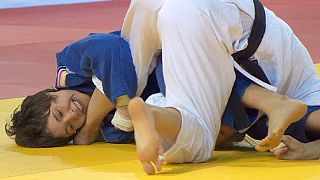 One hundred and seventy judoka were in action on Saturday as the Abu Dhabi Judo Grand Slam event continued.
In the minus-63-kilos class France's Clarisse Agbegnenou stunned her German opponent in only 60 seconds to take the gold and extend her silver streak, winning medals at every event she has entered since 2013.
In the under-70-kilo class the Netherlands' Kim Polling emerged as the winner after a gripping final against Laura Vargas Koch. However Polling had to come from behind as the German scored first with a yuko.
In the men's tournament Changrim An won South Korea's third gold medal with victory in the under-73-kilo class to go with his world championship bronze. It also helped his country to the top of the medals table, above France and Germany.
In the under-81-kilo class Bulgaria took the honours after a crushing performance from Ivaylo Ivanov whose opponent kept picking up passivity penalties. It is Bulgaria's first-ever Judo Grand Slam gold.