Horror blaze in Bucharest nightclub kills 27 with scores injured
Comments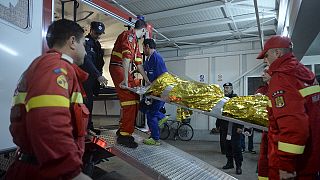 A blaze in a Bucharest nightclub has left 27 people dead and as many as 180 injured.
At least 27 killed, nearly 200 injured in #Romania nightclub explosion https://t.co/iJUYkrmLfGpic.twitter.com/dbRJqTLEPR

— UPI.com (@UPI) October 31, 2015
According to witnesses the fire started as a result of a pyrotechnic display by a heavy metal band.
A spark from the stage set fire to the polystyrene decoration, which initiated the tragic chain of events.
As many as four hundred were packed into the Colectiv Club.
Panic broke out and people were crushed and trampled in the stampede, as the clubers scrambled to escape.
" There were about 20 people outside when the first ambulance arrived. There was not enough room, so we squeezed everyone in. We tried to get them to take as many as possible, because there were so many burn victims."
Metal band's pyrotechnical show sparks deadly fire at nightclub in Bucharest, killing 27 https://t.co/9f7l1jzcQWpic.twitter.com/jB2BccA5H3

— The Boston Globe (@BostonGlobe) October 31, 2015
Emergency services were on the scene quickly and the scores of injured are being treated in hospitals across the Romanian capital.
"Three friends of mine are in hospital. I was lucky because I couldn't find anybody to replace me at work and I couldn't go out. Otherwise I would have been in there or somewhere else, or maybe dead."

Drama din Club Colectiv, test pentru televiziuni și pentru România https://t.co/OKvYodEY1npic.twitter.com/gAez1TOAnP

— ReporterVirtual.ro (@ReporterVirtual) October 30, 2015
The club is based in a former factory with two exits, one of which was blocked, according to the state news agency.
Most of those killed or injured are teenagers.