Grief and shock in Saint Petersburg as Russian plane crashes in Sinai
Comments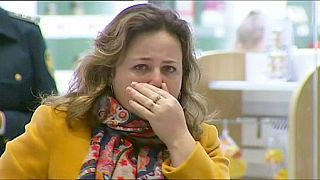 Russian President Vladimir Putin has declared 1 November a national day of mourning after a Russian airliner crashed in the Egypt's Sinai peninsula on Saturday morning, killing 224 people.
The Airbus A321 took off from the Egyptian Red Sea resort of Sharm el-Sheikh and was bound for Saint Petersburg, but crashed soon after take-off.
Most of the passengers were Russian tourists.
It is not known what caused the plane, operated by Russian airline Kogalymavia under the brand name Metrojet, to crash.
Relatives of the passengers were gathering on Saturday afternoon at a hotel near Saint Petersburg's Pulkovo airport, where the plane had been due to arrive, to await information.
"I was meeting my daughter at the airport", one woman explained.
"She didn't want me to come to meet her here. She didn't want to bother us. She's very independent," she continued tearfully.
Putin has ordered an official probe and has sent Russian teams to the crash site in Egypt to investigate what caused the aircraft to plummet from the sky.
A traveler arriving at Pulkovo to catch a flight said: "I found out about the crash half an hour before leaving my flat."
"It's scary, I'm scared of even entering the airport. Honestly, I don't know what I will see there. The sadness of people. It is terrifying," she continued.