Syrian 'government missiles' kill dozens in Syrian market town
Comments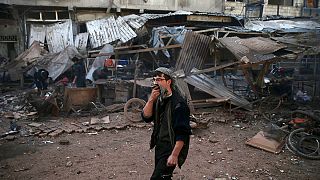 More than 40 people have been killed in a missile attack near the Syrian capital, Damascus. Around 100 were wounded.
The Syrian Observatory for Human Rights said government forces fired 12 missiles at the town of Douma, hitting a market place.
This is 15 km to the northeast of Damascus. According to the Syrian army, insurgent groups had launched attacks on nearby government-held areas. Douma has suffered intense bombardment in recent months.
Medics said they struggled to cope with large numbers of wounded in the latest strikes.