Portugal Ahead coalition sworn in, sets clock ticking
Comments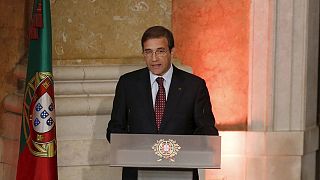 Portugal's newly-sworn-in centre-right minority government faces tough times. Prime Minister Passos Coelho's Portugal Ahead coalition has ten days to convince parliament it is the right choice for the job.
But its leftist opponents have vowed to bring down the cabinet. The Socialists, Left Bloc and Communists have been negotiating an alliance with a view to taking the reins if the government fails a confidence vote scheduled anytime after November 9.
Passos Coelho called for all parties to cooperate, adding:
"The current parliamentary situation – in which the majority supporting the government is relative and not absolute – reinforces this need."
The Socialist-led alliance says it plans to formally present its coalition deal one day before the confidence vote.
It would have the parliamentary majority and could be called on to form a government if Portugal Ahead fails.
Otherwise, a technical government could be formed, which would effectively have no power. It would remain in place until the June 2016 presidential elections. In this case, the new president would be likely to call fresh elections. However, analysts say this scenario is unlikely.
Should either outcome happen, Passos Coelho's cabinet's term in charge would be the shortest in modern Portuguese political history.
The current record of three months has stood since 1978.