More refugees drown off Greek and Spanish coasts
Comments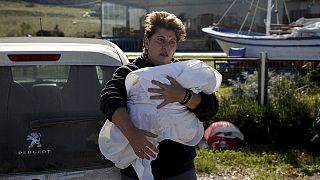 It has been another deadly start to the weekend with more than 50 bodies of refugees recovered from the sea after failed attempts to get to Europe over the last three days.
Once again the Greek island of Lesbos saw the most of the misery.
"The sea just brings more bodies, every day, every day, every minute now, every minute, every minute," said one volunteer rescuer.
It is estimated at least 70 children have drowned since Aylan Kurdi's little body washed up on the shore and swung European opinion back in early September.
The Greeks' prime minister told his parliament Greece was suffering from others' poor policies.
"The military interventions in the region were not to introduce democracy to these Middle East countries, but to serve interests, geopolitical interests that were wrong in their assessment by the governments of the West and the EU that they thought there would not be tragic consequences for the West," said Alexis Tsipras.
There were also fatalities off the Spanish coast this Friday, 35 of them, but 15 were rescued from a boat that had lost its bottom and taken to Malaga.