Innovative education ideas reap rewards and awards in Kenya and Ghana
Comments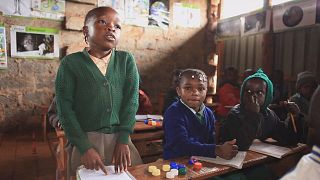 WISE, the World Innovation Summit for Education, kicks off this week in Doha. Around 1,500 experts and policy makers will discuss the latest hot topics and concerns in the field. In this edition we meet two of the six WISE award winners that are being rewarded for their original solutions to some age-old education problems.
Around 2.7 billion people globally live on $2 a day, with such limited resources getting a quality education may seem unrealistic. Let's take a look how one project in Kenya has established an innovative model to tackle this challenge head on.
In the Kichagi slum in Nairobi, Madeline Mukhonyi is getting her daughter Patience ready for school. Madeline is a single mother who raises two girls on a daily salary of 200 Kenyan Shillings, around $2, by selling food on the streets: "You see in my time, when I was her age, I couldn't speak English, even I couldn't read a book in English. But she can read."
It used to be unthinkable for struggling families like Madeline's to send a child to a decent private school for less than $6 a month. Bridge International Academies have made it possible.
It is a network of low-cost private schools established in Kenya in 2009. Their concept, "Academy in a box" consists of a nook tablet, which they call a teacher computer. Through it, Bridge teachers receive their daily lessons from HQ.
Mary Juma is a teacher involved in the project:"We have the teacher computer that really assists the teachers in delivering the contents of the lesson in class. We also have great materials to aid the pupils learn best and faster." 

.@BridgeIntlAcads uses lessons & physical activities to help children in poor environment http://t.co/Srzd3YkLgzpic.twitter.com/23sagVmygj

— WISE (@WISE_Tweets) September 25, 2015
In order to ensure that every school has the same education Bridge designs its curriculum at its HQ in Nairobi. Pedagogical experts carefully design the lessons. They are stored on a server that can be accessed at every school by an academy manager.
Then the teachers come to the office to sync their nook tablets and tap-in the curriculum of the day.
Gibson Nyariki is an academy manager: "I am having a mobile app here. From this mobile app, I can look at pupils' billing history, check on the evaluation, and also I can ask the supplies through the vendor's button and I can call the headquarters. So technology has been used to sum up almost everything in all Bridge International Schools around Kenya."
The school network's goal is to make money by expanding its standardised, Internet based education model.
For Shannon May, one of the three co-founders of Bridge, quantity and quality can go hand in hand: "Many people think that if you have a scale you can't possibly have quality. But that is a mistake. If you have the systems in place, you have technology in place, you have the vigor and you require the accountability of all of your staff and you encourage the participation of parents, then scale is a good thing. It actually helps you to amortize the cost of those investments over a larger population, keep your prices low and ensure more children benefit."
Since its launch six years ago, Bridge has established more than 400 schools in Kenya enrolling more than 126,000 students. It also has schools up and running in Nigeria. Its vision is to expand schools in many parts of the world and reach 10 million children by 2025.
For more information:
Bridge International Academies
In some communities, electricity is rare and schools are even rarer. In these areas tackling the social problems that come with illiteracy often seem virtually impossible. But in this report from Ghana we find out how a unique book is transforming lives.
A rural area in the upper West region of Ghana. Most of the people here are farmers,under educated and without access to electricity or mobile networks. The Talking Book is an affordable audio computer, it is a major source of information.
Andrew Bayor is the director of Literacy Bridge: "The Talking Book is one of the most robust technological interventions of the past few years. It's a multimedia application that helps to make relevant knowledge in agriculture and health available to people that live in rural places. The hard to reach people in rural places."
Behind the audio book programme is the NGO Literacy Bridge which partners organisations like UNICEF, Care and Mida to generate messages on agriculture and health. Information is created in a form of a drama, song or an interview and transferred into the Talking Book.
The the gadet is powered by batteries,and are circulated around the communities and Literacy Bridge's offices where they are charged. Users navigate simple audio menus in any language then listen to 35 to 140 hours of information. They can repeat audio as needed, play it back for family, or simply lend the small, durable devices to friends.
Happy, grateful @PBS is featuring our work in the "Agents for Change" series by @NewsHourWorldhttp://t.co/FTmRwZm9M4pic.twitter.com/3vnj0cua3N

— Literacy Bridge (@LiteracyBridge) July 23, 2013
Dorsaa Athanasuis is a farmer that benefits from the device: "Through the talking book we have learnt where to access fertilizer and how to apply it to our crops. Also our farm animals used to die prematurely, but with the help of this device we know how to care for them."
The Talking Book is the only source of information on modern methods of agriculture and health care in these communities.
Cynthia Dabare also works the land: "The Talking Book teaches us so many things, but I am concerned about the cholera outbreak in Ghana this year. Due to the talking books we have learnt a lot and we made sure that with the measures that we put in place we are safe from cholera."
A group listening to a song on controlling malaria they have just recorded for the Talking Book. pic.twitter.com/tHPc1XHxHi

— Literacy Bridge (@LiteracyBridge) July 29, 2013
The Talking Book allows its users to record feedback by a single click of a button.
Fred Braimah, is the field manager for Literacy Bridge: "With the user feedback statistics we have, the talking book is designed in such a way that people can record a message through that user feedback, letting us know that they are actually benefiting from the Talking Book.
And we can make the talking book available to every family and to extend the program to the whole upper west, the whole Jirapa or even the whole of Ghana!"
Currently, the "Talking Book" reaches 5,000 households in 50 villages in Ghana.
For more information:
Literacy Bridge
Hope you enjoyed this week's episode we'll be back soon with more from this year's WISE Awards, stay tuned.