Education projects in Egypt and Uganda win 2015 Wise Awards
Comments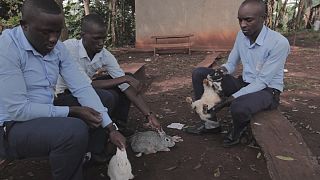 Egypt-based Nafham and the Educate! project in Uganda have been named WISE Awards winners at this year's World Innovation Summit for Education in Doha. This edition of Learning World looks into what they are doing to fill the gaps of stretched education systems.
Uganda: training tomorrow's entrepreneurs
Uganda is one of the African countries with the highest rates of youth unemployment and youth poverty. With 78 percent of its people aged under 30, Uganda has the world's youngest population, and its education system is overwhelmed.
To give Uganda's youth a brighter future, the Educate! project targets 16 to 18 year-old pupils and continues past graduation. It aims to encourage entrepreneurship among pupils and also provides training for teachers. Each week, dozens of trained Educate! mentors offer support in some 250 secondary schools across the country.
"Educate! gives the youth an opportunity and experience to practice starting up businesses right from school and working in teams," says program officer Francis Ndagize. "So when they leave school, they are able to go and mobilize communities and start up group businesses but also individual businesses."
Why has Educate! won a WISE Award? We'll let these three rockstars tell you in our video, coming soon! WISE_Tweets</a> <a href="http://t.co/BcOOMMFWkL">pic.twitter.com/BcOOMMFWkL</a></p>&mdash; Educate! (EducateOrg) 12 Octobre 2015
The program teaches pupils hard and soft skills to improve their livelihoods. And participants are certainly creative when it comes to business ideas: some boys we interviewed set up a rabbit breeding project; a group of girls chose to make liquid manure because it's both a convenient and environmentally friendly fertilizer.
Evaluations show that those who attended the program were 64 percent more likely to set up their own business and more than twice as likely to set up community projects. Figures also show the program's biggest impact is on girls: female graduates more than doubled their income compared to girls who did not attend it. Altogether, 94 percent of the program's graduates now run a business, hold a job or attend university.
The target for "Educate!" in 10 years' time is to work with a million young people across ten countries in Sub Saharan Africa.
Egypt: e-learning to counter teacher absenteeism
Sayed Obaid, 18, is not your average teacher. Walking around Old Cairo, he gives a 5th-grade history lesson about the Fatimid Caliphate while a colleague films him and records the lesson for Nafham, a free online platform that features crowd-sourced educational videos covering the public curriculum of several Arab countries.
"I try to use very simple words and explanations," Obaid says. "At school, they just use boards and drawings but I prefer to show the landscape to the students. It will help them to learn their lessons easily."
Obaid then heads back to Nafham's office to edit his video with the help of professionals. Each month, Nafham attracts half a million web users, mostly in Egypt but also in Saudi Arabia, Algeria, Syria and Kuwait. The platform aims to support educational systems that suffer from overcrowded classrooms and teacher absenteeism.
"Nafham's main goal is to solve educational problems, problems we face in Egypt but also in the Arab world — and there are many," says Mostafa Farahat, Nafham co-founder. "What's new about Nafham is that we ask the society (parents, students and even teachers) to contribute to the educational contents through videos. That means there's a continuity, some are learning and then teaching others. That's the spirit of education."
WISE Award, another prestigious award, thanks to all our partners VodafoneEgypt</a> <a href="https://twitter.com/IntelEgypt">IntelEgyptGoogleArabia</a> <a href="https://twitter.com/Samsung_Egypt">Samsung_EgyptWISE_Tweets</a></p>&mdash; Nafham Education (NafhamEducation) 20 Septembre 2015
At the Brilliance International school in Greater Cairo, teachers even use Nafham's videos in their classrooms. Pupils and teachers say it's a great tool to work with. Tamer Nemr, a teacher, says it makes pupils more autonomous, responsible and confident. Pupils say it's easier for them to watch a video than to read a book, and that it helps them learn at their own rhythm.
"Sometimes in class, there's too much noise and people are talking, and it gets hard to stay focused and to understand the lesson. When I watch a video alone, I understand it all," says 11-year-old Ziyad.
Nafham, which means "We understand" in Arabic, offers educational support to learners of all ages.
What is it about these two projects that stands out for you? Let us know on our Twitter and Facebook pages.