Final day of campaigning before Turkey decides on new government
Comments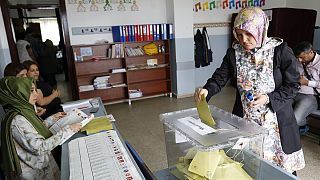 Turkey is entering its last day of campaigning ahead of Sunday's snap general election.
Prime Minister and leader of the ruling AK Party, Ahmet Davutoglu, used his final rally in the city of Konya to have a last-minute dig at the opposition.
"In the election will we break a record, Konya?" he asked. "Will we teach them a lesson, by getting the nationalist leader to say yes? Will we make the CHP leader forget the "opposition block?" And will we give the HDP a lesson on terror? Will we?"
June elections failed to produce an overall majority. Opinion polls suggest the AKP will win on Sunday, but will perhaps not garner enough votes to form a single-party government. The main opposition centre-left CHP party is expected to come in second.
"On November 1, we will go to the polls. We must go. We must change the fate of Turkey. Turkey should not be left to politicians who are only concerned by their own interests and their families' interests," said Kemal Kilicdaroglu, the leader of the CHP.
The nationalist MHP is predicted to come in third, however the big game-changers of the election are expected to be the pro-Kurdish HDP.
If it sees a repeat of June's success and wins more than ten percent of the vote, it will become the first ever Kurdish nationalist party to enter parliament.
Its leader Selahattin Demirtas labelled the vote "a crossroads" between oppression and democracy.
Either Turkey will head towards a one-man system and an oppressive, dictatorial regime, or it will head towards a road which sides with democracy despite the difficulties, and democratic solutions to our problems."