Eurozone prices and jobless data better, but still not good enough
Comments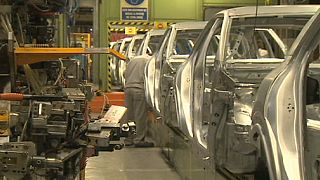 Prices in the eurozone were unchanged in October compared to the same period last year, according to an initial estimate by Eurostat.
In September prices fell by 0.1 percent year-on-year.
The only slight improvement to zero percent keeps up the pressure for more stimulus measures to accelerate price growth.
The prices of food, alcohol and tobacco (+1.5 percent), services (+1.3 percent) and industrial goods (+0.4 percent) all increased, but the factor that prevented the overall figure from rising was energy – the cost of which was 8.7 percent down on the same period last year.
Euro area inflation up to 0.0% in Oct 2015 (Sept -0.1%): flash estimate from #Eurostathttps://t.co/pzXfjPwYOgpic.twitter.com/UPMIIcQFB7

— EU_Eurostat (@EU_Eurostat) 30 Octobre 2015
It means the measure the European Central Bank calls core inflation was 0.9 percent year-on-year, well below policymakers' target of just under 2 percent.
The news suggests that monetary easing has yet to have a significant impact on consumer prices.
Jobless figures also released by the EU's statistics agency revealed a drop to 10.8 percent across the eurozone in September – the lowest rate for nearly four years.
Across all 28 EU countries it was down to 9.3 percent – the lowest since September 2009.
Sept 2015 euro area unemployment rate 10.8% (Aug 10.9%), EU 9.3% (Aug 9.4%) #Eurostathttps://t.co/JN3JQcdm6fpic.twitter.com/HJPqhbbVle

— EU_Eurostat (@EU_Eurostat) 30 Octobre 2015
In the countries with the worst unemployment, the rate has decreased but still remains high: at 25 percent in Greece, and 21.6 percent in Spain. In both countries the figures are around double among the young.
Germany had the lowest jobless rate in the eurozone, at 4.5 percent.
But overall, unemployment remains well above that in other developed economies.
It's thought the data are unlikely to make the European Central Bank change course. It's still expected to ease monetary policy further in December in the face of low inflation and weak economic growth.
Statistics Explained has a more detailed look at today's #Eurostat unemployment data https://t.co/pscXDOEu2Cpic.twitter.com/j12AKTt98v

— EU_Eurostat (@EU_Eurostat) 30 Octobre 2015