Turkey's polls encompass political, security and economic angst
Comments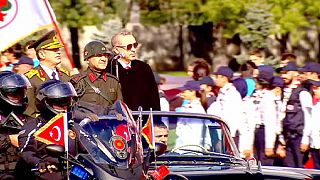 They voted in June, now, against a backdrop of bloodshed, they are voting again, this Sunday (1st Nov.), Turkey's electorate seeking a democratic way out of a political impasse. The last time they drew a line under 13 years of uninterrupted one-party rule by the AKP Justice and Development Party. As no one else would join it in a coalition, Turkey has been managed by an interim government since then.
Violence has returned at the same time. In July, the armed Kurdish separatist organisation the PKK discarded a truce in place since March 2013. The army and militias went back to a war footing, and 140 soldiers and police have been killed, plus more militia and dozens of civilians caught in the crossfire.
Terrorism and security are once more the political parties' top priorities, since a double suicide bombing outside Ankara's central railway station on 10th October left 102 dead, Turkey's worst such attack in its history. The justice authorities say the radical Islamic State group (ISIL) did it to disrupt the elections. The target was a rally protesting against the Turkish military's conflict with the PKK.
Then on Wednesday, two private television stations were forced off the air. Police in riot gear carried out a court ruling to seize companies belonging to the Koza-Ipek conglomerate linked to exiled preacher Fethullah Gulen. The 74-year-old cleric is the object of a so-called 'terrorism' probe, a one-time ally of President Recep Tayyip Erdogan, whom critics accuse of trying to silence opponents.
Both AKP and left-wing politicians also say that what Turkey really needs are measures to tackle nearly 8% inflation, unemployment of more than 11% and rising and slowing economic growth.
The Turkish lira has tumbled to a 12-1/2 year low, losing around 25 percent in value against the dollar in 2015. Consumers are having increasing difficulty keeping up with credit payments. Investors have reduced exposure and hope whoever wins this election will revive the once-admired pace of growth and economic reform — and restore faith in national security.
We talked to Adil Gür, head of the A&G Polling Institute, who predicted before the last vote that it would bring us another poll soon, and was proved right.
Omer Gul, euronews: "What kind of a result do you expect on 1st November? What do your recent surveys show?"
Adil Gür, Director of A&G Polling Institute: "I can respond with a clear-cut survey result. According to our studies, the AKP will form a one-party government with a comfortable margin. In our latest survey, the AKP has 47% of the votes. That would mean around 285-290 seats for them in parliament, which has 550 in total."
euronews: "Following the recent terror attacks, you said HDP support dropped from 13% to 11%. Do you expect more of that? The party leader, Selahattin Demirtas, claims it will have no problem."
Gür: "I can tell you quickly the other parties' vote shares: the AKP 47.2%, the CHP 25.4%, the MHP 13.5% and the HDP 12.2%. There has been a regression for the HDP votes but not much. With the terror attacks, the HDP's share dropped to 11% but now they are above 12% again. So we will have a parliament with four parties in it. Interestingly, the MHP will be the 3rd-largest party in terms of votes but the HDP will have more seats, the 3rd-strongest party in parliament."
euronews: "In June, two million people voted for parties which failed to attain the 10% of the vote. One and a half million votes went to parties that convinced their electors they would pass the threshold, yet they finished very far from their goal. Do you think that those wasted votes will go to the four big parties now?"
Gür: "Yes. We see that in our surveys very explicitly. On 7th of June, 4% of the votes were wasted, but in this election we see that parties far from the threshold will not get more than 2-2.5%. This is one of the factors which brings the AKP to the 47% level. As an example: the SP-BBP coalition got 2.1%, with more than one million votes on 7th of June. Our surveys show us small parties will get smaller this time, and that voters will vote for big parties."
euronews: "If four parties get the required level of votes to enter parliament and there is a similar distribution of seats, that would cause some new fragmentation, bringing about a fifth party in the assembly. But since you think AKP will win the majority needed to form a single party government, you don't expect that a fifth party will form, do you?"
Gür: "No, I don't expect so. I think that there will be a single-party government. Even if we don't get that, for such a fifth structure to form in Turkey, there would have to be a strong economic crisis or some kind of major social event or a foreign threat. In the current conditions, I think assertions along those lines are no more than speculation. I don't think it's likely to happen for at least one or two years. I do not think the conditions are right for a fifth party in the assembly."