Deutsche Bank announces huge job loss plan
Comments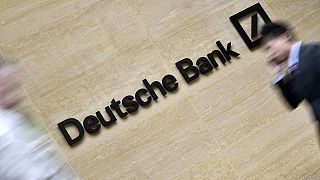 Deutsche Bank has announced plans for major job losses and will also scale down massively its operations worldwide, as part of a major shake-up of its strategy.
Nine thousand full time jobs are to go by 2020; 4,000 of them in Germany.
"I'm very much aware of the fact that these are 9,000 lives, 9,000 people and their families," the bank's new Chief Executive John Cyran told a news conference.
Another 6,000 external contractor positions will also be cut.
The bank's CEO who took over in July added that Deutsche Bank would be pulling out of 10 countries.
"We will have to close down some of our branches in Germany and abroad. We will completely exit some countries," John Cryan said.
In a message to staff he said the process was not being undertaken lightly and would be fair.
Most of the closures will be in Scandinavia (Denmark, Finland, and Norway), and South America (Argentina, Chile, Mexico, Peru and Uruguay). The bank is also withdrawing from Malta and New Zealand.
On top of that, the bank intends to shed assets which currently employ some 20,000 people. Three quarters of the jobs are at retail unit Postbank DPBGn.DE, which Deutsche Bank is spinning off.
The overhaul has been widely anticipated. Deutsche Bank has reported a third quarter net loss of six billion euros and expects the year's overall figures to be bad, "barring a miracle" in John Cryan's words.
Continuing to speak in German, the Briton said:
"We do not assume that 2016 and 2017 will be strong years. The cost for necessary investments for settling many of our litigation and regulatory matters will continue to be a burden on our figures."
Shares in Germany's biggest bank fell on the news.
Litigation from past scandals has cost it dearly and fallout from a market rout in Asia pushed its valuation well below rivals.
Beginning with Germany, Deutsche Bank now says it wants to focus on markets and clients where it can succeed.
John Cryan is going to save Deutsche Bank from destruction — markets just need patience https://t.co/y5FfiEDZvspic.twitter.com/ETZV0xwZgV

— Business Insider UK (@BI_Europe) 29 Octobre 2015