1000-year-old Bible found in Turkey
Comments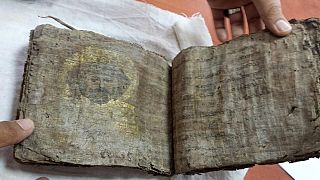 Police in Turkey have recovered a Bible thought to be a thousand years old. The holy book,which was found in the central Turkish city of Tokat, is written in the old Assyriac language.
According to the Daily Mail, the priceless book was recovered after smugglers tried to sell it to undercover officers.
It is not known where the Bible originates from. Written in the old Assyriac language, its cover is reportedly damaged, but its remaining 51 pages have images and religious motifs in gold leaf.
The Christian Post has reported that the book contains pictures of Jesus Christ and other biblical figures.
The Bible was recovered during a series of police operations, reports the Turkish newspaper Hurriyet. The paper says the authorities moved after being informed that three suspects were marketing historical artefacts.
Four operations were reportedly launched, in the centre of Tokat and the nearby Turhal district. Hurriyet says ten people were taken into custody.
Other valuable items including jewellery and ancient coins were also said to have been recovered, while the Bible was delivered to a museum.
It's hoped that the ancient book will provide rare insights into the way Christianity developed in past centuries.
Turkey: Ancient, gilded Bible seized by police in Tokat; believed to be stolen https://t.co/j89682DrROpic.twitter.com/XzMEyLDwQW

— Donna Yates (@DrDonnaYates) October 28, 2015