Portuguese cabinet to be sworn in...but for how long?
Comments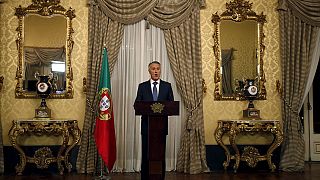 Portugal is set to swear in a new centre-right minority government on Friday, (October 30), but how long it will last remains to be seen.
President Cavaco Silva has accepted the cabinet line-up, to be led by Pedro Passos Coelho, who was named prime minister last Thursday, (October 22).
But although it won the most votes in the October 4 general election, Coelho's Portugal Ahead coalition lost its parliamentary majority.
It now faces opposition from the left, particularly the Socialists, who have vowed to bring down the cabinet.
The new government will have until November 9 to present a programme for its term in office. A confidence vote in parliament will follow, which has prompted the leftist parties to declare the government's days "numbered."
Three parties have been negotiating a coalition in anticipation of the government's downfall.
The Socialists, the Left Bloc and the Communists are likely to aim to form a majority government if Coelho and his cabinet fail.
All three of the parties have called the naming of Coelho as prime minister "a waste of time."