Europe toughens its stance in bid to slow migration surge
Comments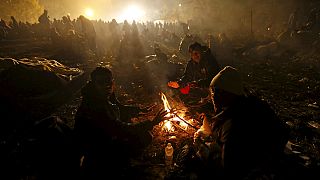 Austria has announced plans to build what it calls 'technical barriers' on its border with Slovenia to help control the flow of thousands of migrants crossing into its territory.
The move comes only days after the EU's Commission president discouraged member states from taking unilateral action in the crisis.
Austria's Interior Minister Johanna Mikl-Leitner, said it was a precautionary measure against increasing numbers.
"We will certainly not build a fence from Hungary to Slovenia to Austria. It is unrealistic to build a fence of 700 km. But we must be prepared, on both sides of the border and plan structural measures to guarantee a controlled access."
She went on to add:" The situation is especially dynamic. We've had between 3,000 and 8,000 people cross our border in just one day.But we need to prepare ourselves in case numbers rise to 12,000."
Refugees find new struggles upon reaching Austria: https://t.co/lwsYMyHHxE by pkleinfeld</a> <a href="https://t.co/oIqZYrB574">pic.twitter.com/oIqZYrB574</a></p>&mdash; Muftah (MuftahOrg) October 27, 2015
Meanwhile Germany has accelerated deportations of rejected asylum seekers, flying 83 of them back to Kosovo.
Bavaria's government leader whose region is bearing the brunt of the migrant surge into Germany has threatened to take Berlin to court over its refugee management.
Over 680,000 asylum seekers fleeing war and deprivation in the Middle East, Africa and Asia have poured into Europe this year, with Slovenia and Austria currently struggling the most with a migrant tide along a corridor northwestwards from the Balkans.