EU ends mobile roaming charges from 2017
Comments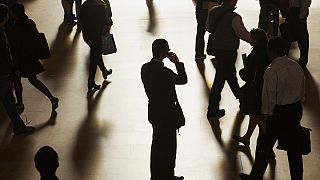 Data roaming charges for mobile phones in EU countries are to become a thing of the past from mid-June 2017.
The European Parliament has given final approval for a plan to ban extra charges being imposed on consumers when they travel abroad within the EU.
665 MEPs voted in favour of the deal.
Roaming charges are currently added by mobile operators for calls (up to a maximum of 0.19 euros/min), texts (0.06 euros) and internet browsing (0.20 euros/MB) when users are abroad.
An interim period has been agreed from next April when roaming should become 75 percent cheaper, according to the European Commission. The cap will be reduced to 0.05 euros/min for calls, 0.02 euros for texts, and 0.05 euros/MB.
From June 2017 EU mobile phone users will pay the same price throughout the union as in their home country.
RT to say #GoodByeRoaming: MEPs in #EPlenary backed #roaming ban! In 2017 we call from abroad same as from home! pic.twitter.com/xFw9nyq9Ml

— European Parliament (@Europarl_EN) 27 Octobre 2015
However some details concerning a ceiling for charges for incoming vocal messages remain to be worked out – it's hoped by the end of the year.
The aim of the ban on roaming charges is to prevent consumers picking up huge bills when travelling. In a number of cases they have run into hundreds of euros.
However there have been fears that mobile phone companies may try to get round the ban by raising prices in general.
Britain's anti-European party UKIP opposed the plans, saying they would penalise people who did not travel.
EU roaming charge proposals mean domestic users will subsidise frequent travellers says #UKIP's RogerHelmerMEP</a> <a href="https://t.co/pcxwKIaQDR">https://t.co/pcxwKIaQDR</a></p>&mdash; UKIP (UKIP) 27 Octobre 2015
However the fact the vote was passed has been hailed by pro-Europeans as an example of British influence succeeding in the EU.
MEPs have voted to scrap roaming surcharges in the EU by 2017. Shows what the UK can accomplish when it leads in Europe

— British Influence (@britinfluence) 27 Octobre 2015