Ukraine: Mariupol vote called off amid 'irregularities'
Comments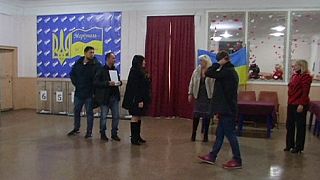 Regional elections in the Ukrainian cities of Mariupol and Krasnoarmiysk were called off on Sunday (October 26) for alleged irregularities on the ballot papers.
Mariupol is the key port city in Donbas located between the Crimean peninsula, annexed by Russia last year, and rebel-held areas of Donbas. It is considered to be the Ukrainian governments last bastion in separatist-held eastern Ukraine
Although the polling stations in Mariupol opened on Sunday morning, the voting failed to start. The reason: the majority of elections commission's members refused to accept the ballots because of mistakes in some of them.
One political party was listed twice, while another was left off the ballot papers. One pack of ballots had reportedly been found opened.
The commission's members who refused to accept the ballots were people from Ukraine's patriotic parties (pro-Maidan parties) who spent the night at Priazovsky Rabochy printing house to avoid distribution of ballots to the polling stations. They said the frauds were prepared.
The ballots were printed at the printing house belonging to Ukraine's billionaire oligarch Rinat Akhmetov, whose candidate runs for mayor as part of the Opposition Bloc (former "Party of Regions" – Ukraine's ex-president Viktor Yanukovich's party).
Both experts and Ukraine's Central Electoral Commission criticised the decision not to hand over ballot papers to polling stations. The Comission's Chief Mykhaylo Okhendovsky said it was absolutely groundless.
"Their official version was that patriotic parties in Donbas and in Mariupol didn't have an opportunity to win election, but that's not a reason for not giving the voters their right to vote. In that case they should have acted legally and if there were problems with security, they should have put Mariupol in the list of the towns where elections can't be held,"said expert Olha Aivazovska, the head of the Civil Network OPORA.
Ukraine's Deputy Interior Minister Serhiy Yaroviy said: "The Central Election Commission has sent a notice to the ministry of internal affairs concerning violation of law by the members of Mariupol's territorial election commission. The information was passed to the Head Department of the Ministry of Internal Affairs in Donetsk region for an investigation. The possible punishment is up to 7 years in prison."
In Krasnoarmisk the polling stations were closed as of 8 a.m. as the election commission members found mistakes in the number of the ballots. After fixing the ballots, the election commission members failed to print them out overnight on October 24, as the fixed copies hadn't been saved.
The election in Mariupol and Krasnoarmiysk may be held by the end of the year, said Ukrainian President Petro Poroshenko. He appealed to the parliament with a request to adopt amendments to the election law that would allow to hold a vote in the two cities as soon as possible.
The results of Ukraine's local election will be announced next week.