Spain: PM calls December elections, campaigns against secession
Comments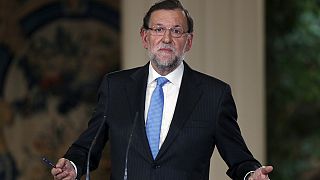 Spanish premier Mariano Rajoy says he will not seek to continue as prime minister if his People's Party (PP) does not win an absolute parliamentary majority in December's general election.
I cannot order a referendum that wants to do away with the nation's unity.
However, when questioned over whether the PP would enter into a coalition, his answers remained vague.
A crushing economic crisis, austerity measures and a rise in unemployment have seen the right-wing party lose support.
"One of the most intense legislative terms of our democracy ends and I'm proud to say that our country showed energy and an extraordinary ability to overcome a difficult situation in a record time," Rajoy told the press.
In power since 2011, Rajoy and his cabinet agreed to dissolve parliament in preparation for a December 20, 2015, vote
Opinion polls suggest the election will prompt a change in Spanish politics, with the new centre-right Ciudadanos and anti-austerity Podemos likely to gain ground.
Catalan independence?
Two main topics in the PP's campaign to regain votes will be the economy and the question of a referendum on Catalan independence – something Rajoy staunchly opposes.
"I cannot order a referendum that wants to do away with the nation's unity," he said. "This cannot be decided by just a few people in a part of Spain. It has to be decided by Spain in its entirety."
The northeastern region of Catalonia has long-threatened to hold a vote on secession from Spain and independentests emerged on top in recent regional elections. One such politician is Carme Forcadell, the newly-elected President of the Catalan parliament.
"Long live the sovereign people and long live the Catalan Republic," she declared upon the opening of the regional parliament.