Poland's eurosceptic Law and Justice party wins election
Comments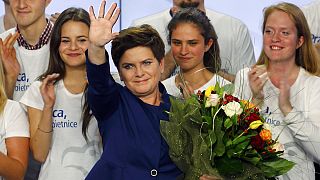 Poland's opposition conservative Law and Justice party (PiS) has claimed a stunning victory in Sunday's parliamentary election winning enough seats to govern alone.
Run by Jaroslaw Kaczynski, the twin brother of Poland's late president Lech the eurocosceptic PiS has unseated the incumbent pro EU Civic Platform after eight years.
"(Ten years ago) Lech Kaczynski was elected the President of Poland. I am mentioning it today not only and not because it is the 10th anniversary, I am mentioning this because without him we would not be here, there would not be a united right."
The woman destined to become prime minister is .Beata Szydlo. Poland's swing to the right risks putting the country on a collision course with its key EU allies.
Out going Prime Minister Ewa Kopacz in conceding defeat said, "It wouldn't have been possible had the people of Poland not trusted us twice. But please remember the these eight years have not been wasted. Without a shadow of a doubt, Poland today is much more beautiful."
Only three other parties are expected to have seats in parliament: the Polish Peasants' Party, and two new groups, a right-wing party led by rock star Pawel Kukiz and the pro-business Modern Poland.
Distrustful of the EU and an advocate of a strong NATO stance in dealing with Moscow the PiS opposes joining the euro zone any time soon and promises more welfare spending on the poor.