Poland and refugees. Where is the Solidarity?
Comments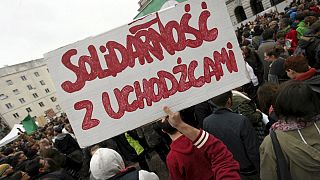 There may only be a few Tatars in Poland but they have been in the country for centuries.
"Your average citizens of Poland or Hungary don't consider themselves as rich Europeans with obligations to the rest of the world. They consider themselves as poor victims of communism and think the world still owes them."
The Imam, Janusz Aleksandrowiczat, of a mosque in Kruszyniany, northeast Poland, said that the building is a symbol of pride for the country's estimated six thousand ethnic Tatars: "We have lived here for 600 years, and 300 years here in Kruszyniany. My blood is mixed with Polish blood because the first Tatars to come here were soldiers, young people who married young Polish women and created families. For us Tatars, it's a somewhat unique situation here."
Long held up as a model of assimilation, today some in the Tatar community are worried: worried that Europe's refugee crisis will rock the foundations of an integration that dates back centuries.
Dzenneta Bogdanowicz runs a restaurant serving traditional Tatar cuisine. Normally very open, she was reluctant to talk to Euronews because recently the family have received threats against them. This is something now, she explained: "The Tatars quickly assimilated into the local population. They adapted to the way of life here but also to the dominant religion. We are Muslim, we go to the mosque, we still go. It has never bothered anyone because it's our business and we've never displayed this."
In Poland, as throughout the European Union, the refugee crisis has created tension, igniting a heated debate as to how many refugees each EU member should take in.
Although there were demonstrations both for and against, recent opinion polls show two-thirds of Poles don't want refugees or immigrants.
It's an opinion voiced even more strongly in countries including Hungary, the Czech Republic and Slovakia, all former Warsaw Pact members.
But why Poland? A country now deemed one of the most stable economies in Europe And more importantly, the birthplace of "Solidarnosc" or Solidarity.
Konstanty Gebert joined Solidarnosc in 1980. Today he is a journalist and an active member of Poland's small Jewish community. He is critical of Poland's lack of "solidarnosc" towards refugees. But he also says the EU needs to understand a certain feeling of betrayal felt by Central Europe: "All of our countries believe, and quite legitimately so, that we were betrayed at the end of the war. That we were suffering for the peace and quiet of the others and that they owed us. And this was true in the mid-80s. But now,it's definitely not. The others have extended a lot of help to us, and now we have a debt to repay and we repay that debt by helping others. But this has not seeped in. Your average citizens of Poland or Hungary don't consider themselves as rich Europeans with obligations to the rest of the world. They consider themselves as poor victims of communism and think the world still owes them."
Euronews went to Bialystok to visit one of Poland's eleven refugee centres. According to government statistics, these centres house about 1,500 people. Not many for a country of 38 million people. Most of the refugees in the centre are from Ukraine or Chechnya.
They receive an allowance of around 50 euros a month. Most centres offer schools and free Polish lessons as well as health and dental care.
For Pavlo Tseona and his daughter, Natalia, from Ukraine, Poland is filled with Solidarnosc. But it also helps that his wife's father and grandfather were Polish: "We arrived months ago from a difficult situation in Ukraine, where there were gun battles, bombings, and where people died. Our three daughters were living in the cellar. So we decided to move out of Mariupol and come to Poland.
Natalia: "I miss my home because it's very far away. But it's better here. There is no war and they give us more money here than there."
While there is a tacit agreement that Ukrainians integrate easily due to their historic and religious ties to Poland, there are also many Chechens refugees, who are Muslim.
Poland has made it no secret that it will help those who have suffered in former Soviet bloc countries.
Achmed Tashaev left Chechnya eight years ago. He now directs a dance group of young Chechen refugees and they are so successful that they made it to the finals of "Poland's got Talent".
And like their dancing, their integration has also been successful. So if Poland is so respectful and welcoming, why has it only agreed to accept 7,000 migrants over the next two years?
Some say it's because Poland has little experience in assimilating refugees. Achmed Tashaev says it's due to social conditions: "If the same social conditions that exist in Germany, France or other western countries existed here in Poland, then I think the Polish would gladly welcome and integrate more refugees."
But others point to a fear of the unknown. Poland is the most culturally and ethnically homogeneous country in Europe. The population is 96% ethnic Polish, and 94% Roman Catholic.
And there is concern, unfounded or not, that extremists could infiltrate the thousands of refugees seeking shelter in Europe.
Miriam Shaded is half Polish, half Syrian. She runs the Estera Foundation, which has brought 55 Syrian Christian families to Poland. Although half of them have subsequently moved to Germany seeking better living and social conditions, she still says her mission is a success: "Each family was adopted by society, by churches, by people of good will, so they helped them find jobs and integrate. But nobody wants to help people who just come here and could even be a threat to Polish people, like Islamists, because when you know that Islamist extremists are trying to force their religion on Christians over there, you can assume they will also do it in Europe."
With this type of fear of the unknown, there is little doubt that Europe's refugee debate is far from over. But in a country long known as one of emigration, the irony is not lost on the Imam, Janusz Aleksandrowicz: "These refugees are people with children, entire families fleeing the war. They are saving their lives, just like the Polish did, not only during wars but also during a state of war, they fled from Poland. They searched for a place where they could lead a peaceful life. And this is exactly what the refugees are doing today."