Infantino gets full UEFA backing to stand for FIFA presidency
Comments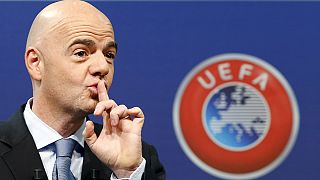 UEFA has given its full backing of general secretary Gianni Infantino to stand for the presidency of football's scandal hit world governing body FIFA.
It had previously supported President Michel Platini, however, following the Frenchman's 90-day suspension by FIFA's ethics committee​, Infantino is now UEFA's main man after being given unanimous backing by the executive committee.
In a statement UEFA said it believes that Infantino has ''all of the qualities required to tackle the major challenges ahead and to lead the organisation on a path of reform to restore Fifa's integrity and credibility.''
Platini has registered – but his chances are now slim to replace incumbant Sepp Blatter who is also serving a suspension pending a full investigation by the ethics committee.
Among Infantino's principle rivals are Jordanian Prince Ali Bin al-Hussein who lost to Blatter in the May elections and former French diplomat and FIFA executive Jérôme Champagne.
The elections are scheduled for February 26.
FIFA is currently is embroiled in the worst scandal of its 111-year history, after the United States indicted several FIFA officials for bribery, money laundering and wire fraud in May.
Swiss authorities are also investigating the decision to award the 2018 and 2022 World Cups to Russia and Qatar respectively.
Blatter and Platini, meanwhile, are suspended while Fifa investigates reports that a payment of some two million euros was made in 2011 for work Platini did as Blatter's adviser some nine years earlier.
Both men strongly deny any wrongdoing and are appealing against their bans.