Death toll 'surpasses 200' in south Asia earthquake
Comments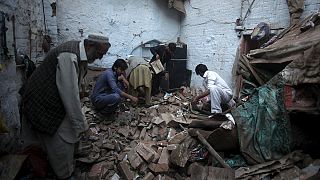 Local media reports suggest more than 200 people have died as a result of a magnitude 7.5 earthquake, which has rocked Afghanistan and Pakistan.
USGS Shakemap showing intensity of shaking for affected areas around M7.5 in Afghanistan https://t.co/PvPc0NQrxWpic.twitter.com/ZmiBwPbaFR

— USGS (@USGS) October 26, 2015
In Afghanistan's Takhar province, a frenzied evacuation at a girls' school ended in tragedy for at least twelve students, who were reportedly trampled under the feet of others trying to escape the building.
The 'quake struck some 75 kilometres southeast of Feyzabad, near the mountainous Hindu Kush region of northern Afghanistan, shortly after 2pm local time.
Communications were brought down in some regions, meaning the death toll is likely to continue rising.
Pakistan Red Crescent National Disaster Response Team has been dispatched for AJK, GB and KPK #earthquakepic.twitter.com/UHD1cAPiBM

— Pak Red Crescent (@PRC_official) October 26, 2015
In Pakistan's provincial capital Peshawar, at least a hundred people were taken to hospital.
The country's army chief ordered troops to the areas affected by the 'quake, which reportedly had the biggest impact in the north, but could be felt across the nation.
In the capital Islamabad buildings shook and people poured into the streets in a panic.
Noor Mohammad's granddaughter was injured.
"I was saying my afternoon prayers when the earthquake happened and the roof and walls of the house collapsed," he said. "Two children from my family were wounded."
Shockwaves were felt as far away as northern India and Tajikistan, officials say, although there are no reported fatalities.
India's prime minister Narendra Modi has ordered an urgent assessment of any damage.
I have asked for an urgent assessment and we stand ready for assistance where required, including Afghanistan & Pakistan.

— Narendra Modi (@narendramodi) October 26, 2015
Spoke to PM Nawaz Sharif & expressed condolences on the loss of lives due to the quake. Offered all possible assistance from India.

— Narendra Modi (@narendramodi) October 26, 2015