Direct flights come to an end between Kyiv and Moscow
Comments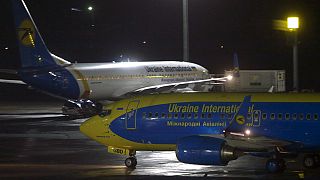 Ukraine's ban on flights to Russia announced three weeks ago comes into effect on Sunday, meaning longer more expensive journeys for people wanting to get to Moscow. The Russians have reciprocated with a ban of their own on flights to Kyiv.
For the Ukrainian transport minister the move represents no more than an inconvenience.
"Actually these sanctions will not hit Ukrainians who want to transit via Moscow, as these travellers can do their transit from other cities in the world. As far as Ukrainians who travel to Russia for work or family purposes are concerned, they can travel by train or by plane," said Andrii Pivovarsky.
Airports in Moldova and Belarus may pick up extra business, but the sanctions will hit Russians harder. Nearly half a million travelled to Kyiv so far this year, with fewer than 200,000 Ukrainians going in the opposite direction.
"I support neither Ukraine, nor Russia in this conflict. In my opinion it is like an information war. But it is very bad for me and my relatives in Ukraine. It's bad also for Aeroflot and Rossya," said one young Russian.
The mutual bans are a further escalation in the conflict between the two countries and reflect a hardening of Ukrainian attitudes, reflected in opinion polls, that indicate most people want nothing more to do with their erstwhile main partner.
"Apart from the troubles that these measures can cause to individual passengers, we must remember that there is a war between Russia and Ukraine. Nevertheless, Moscow and Kyiv have started negotiations to try to resume, at least partially, the flights between the two countries," says euronews' Sergio Cantone.