Xi Jinping: the European Union must remain united
Comments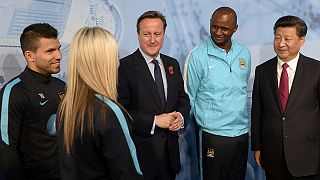 The Chinese President has told Britain he wants to see a united European Union.
It was an unusual intervention for Xi Jinping, who normally is reluctant to get involved in the internal affairs of other states.
Chinese president Xi Jinping says the UK should stay in the EU https://t.co/negOyYmCStpic.twitter.com/EaClazNiEr

— Financial Times (@FT) October 23, 2015
The Chinese delegation is heading home after a four-day state visit, which drew criticism from campaigners concerned about Beijing's record on human rights.
AWKWARDSELFIEALERT Just Sergio Aguero chillin' with David Cameron and Xi Jinping #MCFChttps://t.co/cVRElUu9DRpic.twitter.com/jQ8tExUqgA

— Indy Football (@IndyFootball) October 23, 2015
The Chinese delegation visited Manchester on Friday.
33 billion euros worth of deals have been signed here, to help create a "northern powerhouse" to challenge London's dominance.
Several other multi-billion euro agreements were signed during the visit, including a controversial contract to build a nuclear power station on the south coast of England.
And, like many business deals, they were sealed over a pint in the pub.
The Plough in the nearby village of Cadsden.
Your round: Cameron and Xi Jinping sample the local delicacies at village pub https://t.co/9MKh2KdT5upic.twitter.com/elcuf1S4kI

— The Guardian (@guardian) October 23, 2015
Chinese media describes UK public as 'potato lovers who can't drink tea properly' https://t.co/XBX78xsGgK

— The Independent (@Independent) October 22, 2015