Protests as Air France confirms 1,000 job losses in 2016
Comments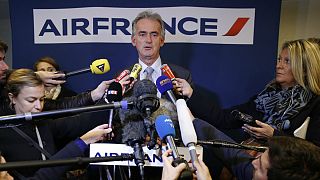 Thousands of demonstrators took to the streets of Paris and across France on Thursday to defend jobs at Air France – as the carrier confirmed that 1,000 posts will be lost next year.
The protests took place while airline bosses and union representatives met in the French capital.
Those taking part in the protests also gathered in solidarity with five workers facing court over clashes in which Air France managers had their clothes ripped earlier this month.
Five arrested over #AirFrance violence http://t.co/RkgGA0gOOwpic.twitter.com/cSpcT54o9G

— Agence France-Presse (@AFP) 12 Octobre 2015
"Assuming that we continue with the negotiations and pursue Plan A, the only departures we are considering for 2016 are voluntary – as we have always done – for 1,000 jobs," Air France CEO Frederic Gagey told reporters.
"It has been discussed with the unions and this figure has been confirmed."
In the earlier talks that ended in clashes, Air France had presented a 'Plan B' of job losses and flight cutbacks after it failed to get pilots to sign up to productivity measures that would have involved working more hours for the same pay.
"In life, if you don't do anything, if you don't raise the alarm, if you don't assume your responsibility, nothing will ever happen," said Air France pilot, Captain Bruno Benoist-Lucy, taking part in the protests.
"The government needs to finally understand what is at stake and decide what it wants – an airline that carries weight in global aviation or not."
A further 1,900 job cuts due in 2017 under 'Plan B' have been suspended for now, as talks continue on ways to improve productivity.