Germany tightens asylum rules from today to cope with record migrant influx
Comments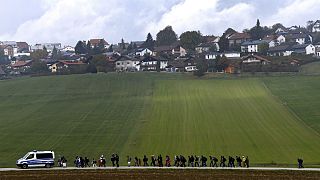 Germany is tightening asylum rules from Saturday – a week earlier than planned – to try to better manage the unprecedented influx of migrants and refugees.
The tighter regulations aim to speed up asylum and extradition procedures for migrants from southeastern Europe, in order to focus on refugees from war-torn countries such as Syria, Iraq and Afghanistan.
"We want to get better and faster this year at the deportation of rejected applicants who have no claim to remain here," said Peter Altmaier, Chancellor Angela Merkel's chief of staff.
Support for Merkel's conservatives is falling due to concern over the refugee crisis, with many Germans feeling the country cannot cope.
Government figures show that while many arriving in Germany are fleeing war in the Middle East, at least a third are economic migrants from the Balkans who can have little hope of staying legally.
German Interior Minister Thomas de Maiziere said: "Those who must leave our country and have been given a deadline for doing so will have their benefits reduced to nothing, only receiving what is immediately necessary until they have left."
Volunteer doctors and dentists treating newcomers are struggling to cope.
"We have to rely on donations for medicines and equipment," said dentist Sabine Schweden, who cares for refugees staying in a sports hall in Berlin.
"These are disposable, for example," she said, holding up one of her dental tools.
"We have to beg."
With talk of a million or more asylum seekers arriving in Germany this year – by far the most in the EU – emergency shelters are filling up nationwide.
And with record numbers reaching Greece by boat in recent days, many more will be headed in Germany's direction.
Greece sees record 48,000 arrivals in past five days, says IOM https://t.co/8i13sTJOazpic.twitter.com/ql9knoPsFI

— Kathimerini English (@ekathimerini) 23 Octobre 2015
We met lovely Lila, a refugee from Syria in Lesvos, Greece today with her parents. pic.twitter.com/KeVZv695GV

— UN Refugee Agency (@Refugees) 23 Octobre 2015
Several European leaders are due to meet on Sunday to tackle the migrant crisis in the western Balkans as thousands trying to reach Germany are trapped in deteriorating conditions with the approach of winter.