China's economic growth falls below seven percent
Comments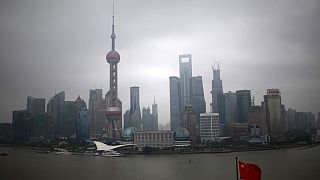 Economic growth in China has dropped below seven percent for the first time since the global financial crisis began.
It adds further pressure on Beijing to cut interest rates again and take other measures to stimulate activity.
Investment slowed but the picture was slightly better than had been feared.
The world's second largest economy grew by 6.9 percent between July and September compared to the same period last year.
Analysts expect predict not an abrupt drop in growth but a gradual slide to continue into next year.
"Our economy is under a lot of pressure from the growth slowdown and it's entered a period of adjustment. The origins lie in excess productivity in the past and outdated traditional industries. But the economic fundamentals remain unchanged, and the general employment situation is healthy," said Sheng Laiyun, from China's National Bureau of Statistics.
Chinese leaders have been trying to reassure markets for months that the economy is under control after the summer's shock devaluation and stock market plunge.
September's figures dampened optimism that the low point had been reached.
China's central bank has cut interest rates five times since last November.
But Monday's GDP reading was the worst since the first quarter of 2009.