Anti-immigration party SVP makes record gains in Swiss parliamentary poll
Comments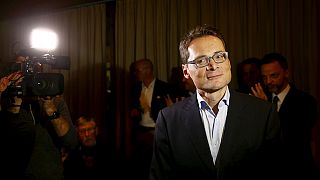 Switzerland has taken a slide to the right according to political pundits after projections showed the anti-immigration Swiss People's Party (SVP) is set for a record win, taking over 29 percent of the vote.
That should translate into 65 of the 200 seat lower house – it's a performance which has exceeded expectations.
SVP leader Toni Brunner said his party was obviously in touch with voters concerns: "I can say that the Swiss people want to put migration at the centre of this election and they don't agree with other parties, with the government and with the parliament. We know how to handle this refugee crisis, while the others act like there isn't a problem."
The election gains for the SVP, come 20 months after the Swiss in a referendum backed limits on foreigners living in the Alpine nation. The SVP had strongly supported the restrictions.
But not everyone is of the same mind. One man said he would rather live in a country of solidarity and humanism than in a repressive and restrictive country.
While another voter and possible SVP supporter said: "For me what will be more interesting to see is if the impact of the decision to implement the famous anti-immigration initiative will change something. But I think it is really too soon to tell."
But the SVP's win means it can keep up the pressure for those quotas on people moving from the European Union.
In fact Swiss lawmakers have until 2017 to reconcile this referendum result with an EU pact that guarantees the free movement of workers, otherwise the Swiss government must write quotas into law regardless of any compromise with the EU.
Other parties
The left-leaning Social Democrats (SP) finished in second place. Their share of the vote rose 0.2 percent to 18.9 percent but they are set to lose 3 seats and are down to 43 according to projections.
The pro-business Liberal Party (FDP) saw its support edge up 1.2 percent, which gains it three seats up to 33 .
Greens lost five seats, down to 10.