Typhoon Koppu begins battering the Philippines
Comments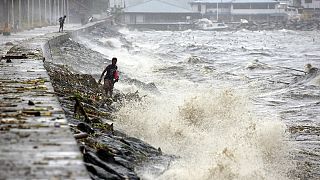 Powerful typhoon Koppu has begun battering the northern Philippines – whipping up coastal surges, destroying homes and displacing some 10,000 people.
There were no immediate reports of casualties but the category four typhoon, with torrential rain and gusts of more than 200 kilometres an hour, is slow moving and could be around for days.
Koppu made landfall at around 1 a.m local time on Sunday near the town of Casiguran in Aurora province.
Already there are reports of flooding, mudslides, damaged roads and bridges and power lines and trees toppling over. Some 10,000 people have been displaced in northeastern Luzon, the country's main island.
Typhoon #Koppu is lashing the Philippines. Over 6 inches of rain in spots; much more to come: http://t.co/g7ax2iCYZNpic.twitter.com/XvOQeTqd29

— The Weather Channel (@weatherchannel) October 18, 2015
Authorities said 30 flights and ferry services in the north were grounded. Some commuter bus services were suspended due to threats of landslides in mountain areas.
Forecasters said Koppu will remain over Luzon for three days due to high pressure in the north and another typhoon in the northwest Pacific.
On Friday, President Benigno Aquino appealed on television to people not to panic and to make preparations.
AS DELIVERED • President Aquino's address this evening on typhoon #LandoPH: http://t.co/bPrXbnX9sRpic.twitter.com/WzcfuXmFtx

— Official Gazette PH (@govph) 16 Octobre 2015
The last time he made a televised appeal was in 2013, the day before super typhoon Haiyan struck the central Philippines, killing more than 6,300 people and leaving millions homeless.