Syrian refugee family adjusting to German life
Comments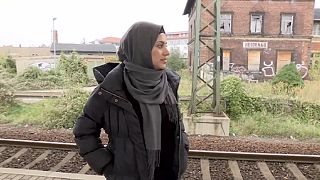 After two weeks in Berlin and a month in the town of Heidenau, the Habashieh family from Syria are still waiting to file their asylum applications.
Nineteen-year-old Reem and her 11-year-old sister Raghad fled Syria's bitter civil war with their brothers and mother. After a perilous journey from Damascus they're settling into their new lives.
It's been a frustratingly slow process. They have yet to be called up to file their applications for asylum.
Reem explained, "…we are just sitting there wasting time doing nothing. We didn't do any step of our asylum process."
They have been given German books by Julius Roennebeck, a local volunteer who has befriended the family and is helping with day to day maters such as getting warm blankets, juice and asprin.
"We speak, we talk about what concerns them, talk about their situation," explained Roennebeck. "We speak some German, we try to learn a bit of German because that is the key for them to succeed in this country on the long term."
Germany has just approved new measures, allowing them to focus on refugees fleeing war zones such as Syria, Iraq and Afghanistan.
But there is a backlog and it may take up to a year for Syrian refugees to receive asylum status.