Obama calls extending Afghan military mission "a necessary extra effort"
Comments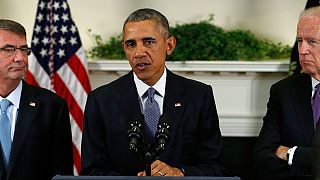 US President Barack Obama has justified what his critics have said amounts to a massive u-turn that is his decision to keep a significant troop contingent in Afghanistan.
Despite coming into to office promising an end to the US military presence in the country he's now keeping a force of 9,800 there throughout 2016, reducing that to 5,500 when he leaves office in 2017.
The president has called it a "necessary extra effort".
"As Commander in Chief, I will not allow Afghanistan to be used as a safe haven for terrorists to attack our nation again. Our forces therefore remain engaged in two narrow but critical missions, training Afghan forces and supporting counter-terrorism operations against the remnants of al-Qaeda."
The US-led coalition in Afghanistan ended its combat mission after 13 years of war at the end of 2014, and Afghan troops have since been in charge of the country's security, with the help from US and NATO troops.
However the recent Taliban bombing in Kabul and an increase in the number of other assaults including their brief taking of the city of Kunduz have raised concerns in Washington over the effectiveness of Afghan forces.
But in keeping US troops there it effectively hands over the task of pulling them out to Obama's successor.
Critics have been swift to comment:
Obama pledged to stop the Afghanistan war, but its end is nowhere in sight | Ali Gharib http://t.co/Ip8TTelIuk

— The Guardian (@guardian) October 15, 2015
3 Out of 4 U.S. Deaths in Afghanistan Occurred Under Obama http://t.co/8PfHUCZpn1 via BreitbartNews</a></p>&mdash; IrritatedWoman™ (irritatedwoman) October 15, 2015
With Obama's meddling we've handed Libya & soon Syria, Afghanistan & Iraq to jihadists. Might be time to give back that peace prize.

— Andrea Tantaros (@AndreaTantaros) October 15, 2015