EU urged to tighten air pollution limits in light of VW scandal
Comments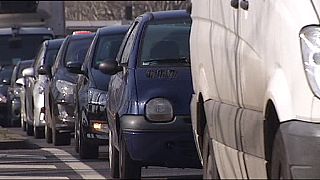 The EU must seize the first opportunity since the Volkswagen scandal to tighten air pollution limits, say campaigners.
MEPs are set to vote on whether to introduce binding restrictions on some of the most dangerous pollutants to human health, such as nitrogen oxides, which are produced in greater quantities by diesel vehicles.
Air pollution is estimated to have caused 400,000 premature deaths in Europe in 2011, according to the European Environment Agency
The European Parliament vote, set for October 28, comes a month after car manufacturer Volkswagen admitted installing software designed to cheat nitrogen oxide emission tests.
"This is one of the first opportunities the EU has of actually doing something about air pollution," said Sébastien Pant, spokesman for the European Environmental Bureau (EEB).
"Air quality is a massive public health crisis in Europe and the EU has to get its act together and take this problem seriously.
"The Volkswagen scandal shows that more action is needed, so it's a very good opportunity for the EU to get things right."
The European Commission said 16 countries are not complying with existing EU nitrogen dioxide levels.
But the new legislation – referred to in Brussels jargon as the National Emissions Ceiling Directive (NECD) – going before MEPs proposes binding limits by 2025.
There is little EU data for quantifying the number of people who die as a result of exposure to nitrogen oxides.
However a groundbreaking study published by London mayor Boris Johnson estimated that 5,900 city deaths were linked to the pollutant, for which road transport is the main source.
If the new legislation is passed by MEPs, it will then have to go before environment ministers of EU members states before it can become law.
Last month, Brussels-based Transport and Environment claimed every major car manufacturer is selling diesel cars that fail to meet existing EU pollution limits.
The EEB says car manufacturers' current emission tests are not working because they fail to replicate how people drive their cars.
The European Automobile Manufacturers' Association (ACEA) said it supported stricter testing but called for more time to implement any changes.
"We are fully aligned with the need to better measure the emissions of nitrogen oxides (NOx) from diesel cars and vans under normal driving conditions," said Erik Jonnaert, secretary-general of ACEA. "However, it is important to proceed in a way which allows manufacturers to plan and implement the necessary changes, without jeopardising the role of diesel as one of the key pillars for fulfilling future CO2 targets.
"Our industry is committed to contributing constructively to the efforts of the Commission and member states to upgrade emissions testing.
"Clarity and predictability will enable manufacturers to continue investing in technologies that meet even higher standards and contribute to the fight against climate change."