Egypt devalues pound for third time this year
Comments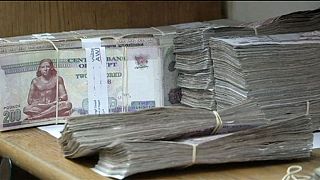 Egypt's Central Bank has devalued the pound for the third time this year.
It came after the country's foreign reserves tumbled and the currency fell to a record in black-market trading.
Egypt has been under pressure to cheapen the pound since China's surprise devaluation of the yuan in August hit many emerging-market currencies as they tried to preserve the competitiveness of their exports.
The pound weakened by 1.3 percent to just under eight against the dollar.
Its decline for the year stands at almost 10 percent, the worst in the Middle East behind Algeria's Dinar.
Political turmoil, insecurity and the collapse of tourism have put huge pressure on the pound which has lost a third of its value in five years.
The devaluation will be welcomed by those who believe it will attract investment and make Egyptian exports more competitive, boosting growth.
Critics say despite successive devaluations exports have decreased.